Safety Measures Taken at Wingert Construction Ltd.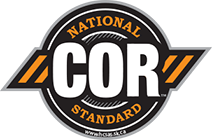 Excavation sites can be hazardous to navigate, yet alone work in day-in and day-out. At Wingert Construction Ltd., we handle safety with the utmost importance to ensure that everyone gets home safe each and every day. Our machines have to be in excellent working condition so we do not damage or contaminate the environment that we work within. All employees are certified and trained for their daily job duties. Since 2004, Wingert Construction has been COR Certified with Saskatchewan Heavy Construction Safety Association.
Some of our certifications include:

First Aid
CPR
Equipment Operator Certification
Ground Disturbance
Clean Drivers Abstract
With Wingert Construction Ltd on the job, you can be at ease and have peace of mind knowing that, not only will the job be done right, but it will be done in a safe and efficient manner. Contact us to learn more about the safety procedures implemented at Wingert Construction Ltd.